🧠Bonus Food: Ping-An, the tech giant masquerading as a finance company
Ping-An is larger than Google, Facebook, and Microsoft. It's genuinely a tech giant, that happens to sell insurance. The more you dig, the more interesting it gets.
Life isn't fun right now if you're a bank (or in financial services broadly).  Earnings growth is negative, and bank share prices have taken a hammering. As the economy faces, significant stress banks are preparing for loan losses.  Despite spending billions on "digital transformation," their earnings are negative.  In the past 3 years, only the energy sector has performed worse than banks. Since the pandemic, banks are the worst-performing sector of all.
Are banks destined to wither and manage decline, or is there hope on the horizon?
There are vanishingly few examples of companies more than a couple of decades-old showing real growth in the financial services sector.  The elder statesman of financial services growth is PayPal, founded in 1998; it's barely 22 years old. 
Yet there is one example I've found that's breaking the trend.  Ping-An.
Context
This post started with a question. I asked Packy McCormick on twitter DM, "do you know any other companies like Ping-An"?  But it quickly became clear when looking into Ping-An, it is the story here, not companies like it.
With more than a $1trn balance sheet, 180m customers, and $159bn in revenues through 2019, Ping-An is massive.  (For context, Facebook's 2019 revenue was $70.7bn).  Ping-An is 29th on the Forbes Global 500 list.  Bigger than Microsoft, Ford, Verizon, Ping-An is larger than the mighty Alphabet.
The column inches and blog gigabytes dedicates to other big blue chips dwarfs that of Ping-An.  People know Tencent, Ali, and even Byte Dance, but Ping-An is fascinating because it differs from those companies.  It has a unique strategy, and the more you dig, the more interesting it gets.
History of Ping-An
"Ping An" literally means "safe and well."
If you've never heard of Ping-An, that's not surprising; in the West, they're relatively unknown.  Ping-An was founded in 1988 (barely a decade before PayPal), but still pre-internet. Founded by Mingzhe (Peter) Ma in Shenzhen, it was the first Chinese financial group to adopt a shareholding structure.  
As a pioneer in property and insurance in the late 80s, Ping-An grew with Chinese economic liberalization before being spotted by significant investors in the West in the 90s as an opportunity.
In 1994, Goldman Sachs made its first principal investment in China when it purchased a combined stake along with Morgan Stanley of 10% in Ping An Insurance Company. Each bank invested approximately US$35 million in Ping An, making it the first Chinese insurer to have foreign shareholders.

https://www.goldmansachs.com/our-firm/history/moments/1994-ping-an.html
Ping-An went on to become the first Chinese insurer to have an international auditor or offer investment-linked insurance policies.  This openness to international best practice meant that at the time of its listing on the Hong Kong stock exchange in 2004, Ping-An was the second-largest life insurance and the 3rd largest property insurance company in China.
In December 2009, HSBC purchased 16.8% of Ping-An, making it Ping-An's single largest shareholder, only to sell the entire stake after the Global Financial Crisis reforms in 2012 forced the bank to have a higher tier 1 Capital ratio.  Ping-An just became HSBC's largest shareholder (at over 8%) as HSBC shares hit their lowest level since 1995.
This isn't the story, though.
Ping-An is the insurer customers barely see because of their ecosystem.
Ping-An figured out how to do engagement for insurance.
Insurance has long had an engagement issue.  Customers don't want to talk about insurance, play with it, touch it, anything.  Typically, you hear from your insurance company once a year around renewal, making the relationship very much about price.
Realizing this, Ping-An finds any excuse to build engagement that has nothing to do with insurance at first glance and everything to do with insurance at second glance. Ping-an creates auto services, health care services, or even peer to peer lending services as an excuse to engage with customers.
For example, in the auto "ecosystem," Ping-an acquired a majority stake in HaoChe, a Chinese car leasing start-up.  What does that have to do with insurance?  Ping-An mines the data from HoaChe, such as car servicing frequency, location history, and car purchase habits.  HoaChe now claims a 76% market share in online car sales in China.  Ping-An gets to use all of that data not only to train it's underwriting engines but to embed insurance at the point of purchase.
Another example is the real estate "ecosystem."
Ping An's real estate ecosystem is called Haofang. A one-stop-shop for homes, real estate investing, and property developments. Opened in 2014, the key to HaoFang's success was its ability to secure early partnerships with dozens of real estate developers across China. This guaranteed a steady supply of new home listings which brought over 12 million Chinese consumers flocking to Haofang, and spending more than 150 billion rmb on new home transactions last year.

https://www.the-digital-insurer.com/china-in-depth-ecosystems-in-china/
This app isn't about mortgages or home leasing, but it's the natural place to cross-sell mortgages or home leasing.  And that's the thing.  That's the strategy.  That's the whole point.
This ecosystem model creates regular touchpoints with customers and demonstrates a deep understanding of the customer.  In effect, it solves the customer's problem first vs. the western insurance approach of selling insurance products.  They're also much more relevant.  Insurance when you're buying or leasing a car just makes sense.  A mortgage when you're buying a house, well, you have to do that anyway, but why wouldn't that be in the app you research homes in?
Ping-An gets to scoop up all of that data and then works hard to create 5-10 minute onboarding or claims journeys for the user.  In turn, this creates a ton of customer satisfaction, which drives brand value.  Ping-An becomes a mark of trust that the thing you were doing anyway is now "safe and well."
Cross-selling becomes Ping-An's competitive advantage.  How many can wrap home, auto, and life insurance together if you think about most insurers?  Having a home doesn't imply you need auto insurance at this exact moment.  However, a customer buying a home through the real-estate app probably needs a mortgage and home insurance.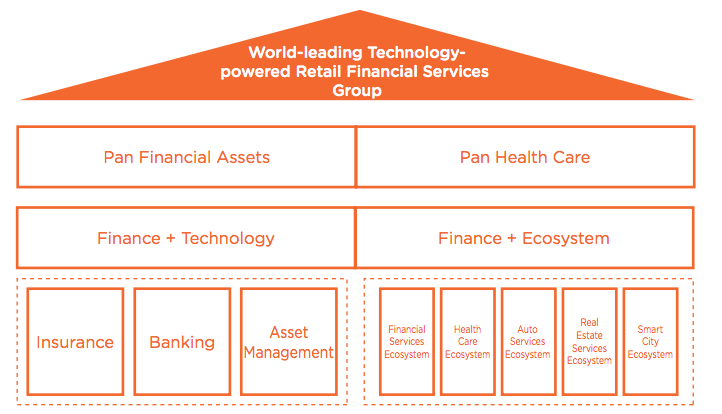 As you can see to the right (above), Ping-An is very clear about its "five ecosystems,"; financial services, healthcare, auto, real estate, and smart city.  The bottom right of the diagram shows the ecosystems that drive engagement, deeper into their tech platforms.
But that's not the whole story either...
Ping-An, the tech giant masquerading as a finance company
The story is that Ping-An is a tech giant masquerading as an insurance and financial services conglomerate.  Annually, Ping-An commits 1% of revenues (roughly 10% of profits) into R&D, across its "five ecosystems"; financial services, healthcare, auto, real estate, and smart city.  In another stroke of strategic clarity, they then cut those five ecosystems with three core technologies; AI, Cloud, and Blockchain.
There's so much to learn from Ping-An's view of the role technology plays in their strategy.  It's not about cost reduction or user experience.  Ping-An's Jessica Tan describes three roles technology plays. 
Technology exists to "very aggressively" innovate the core finance, business models.  Ping-an is changing how they approach risk, sales, control, operations.  In an incumbent financial institution, they'd pay a myriad of vendors to "transform" or outsource these functions as a cost.  Ping-An see's them as a competitive advantage.

Technology "enables ecosystems."  So across their five ecosystems, the technology must be built in a way that enables auto, real estate, healthcare, or even "smart cities."  Can you name another finance company that has this as core to their strategy?

Technology connects ecosystems and finance.  This point is then crucial; how does the data come together? How does that enable cross-sell?  This is where Ping-an's IP shines.
To give some scale to their technology investment, Jessica Tan notes.
"We now have 32,000 researchers, a combined 101,000 tech staff at the 11 tech units, more than 20,000 patents—96% are invention patents—and eight research institutes."

https://www.insurancejournal.com/news/international/2019/12/03/550009.htm
I know China scale dwarfs everything else, but what's perhaps missing from those numbers is what those tech staff do.  Are they maintaining 1970s technology? Not likely.
Ping-An's core technology has become so capable; they've spun it out and sold it to the market.  Not unlike how Amazon, with its vast technology real estate, realized the rest of the market could benefit from that asset.  Ping-An has taken an asset they had (in this case, their Fintech platform One-Connect) and made it available to more than 620 banks and more than 3,000 nonbank financial institutions.  Ping-An did "Bank-as-a-Service" and embedded finance before it was cool.
With One-Connect, we see an example of how Ping-An takes a concept and then incubates (and even spins out) entirely new companies when it may help that part of the business grow.  
Intentionally incubating the next big idea for their platform.
Ping-An has 11 tech teams (a nice number that, wonder where I've seen it before?).  Having many small units focussed on creating the next brand or spin-out is an intentional management decision.  As a large organization staying small and nimble is hard.  My 11:FS co-founder Jason Bates always says, "digital is a small team sport."  It's interesting, then, that Ping-An has intentionally harnessed that in their org design.
Ping-An management is notoriously fond of creating internal competition between these teams.  Often, the two teams are tasked with solving a similar problem domain, while only one will ultimately win the drag race and commercialize the eventual solution.  This "drag race" approach creates focus, but when combined with China's notorious 996 working culture may also have limits in staff retention and fairness.
Incubating Ecosystem brands and technology spin-outs
Perhaps the largest spin-out is Good Doctor.  With more than 77m users, Good Doctor has a small army of doctors available online 24/7 for consultation.  Where Good Doctor differentiates vs. other, similar apps can connect this service with local hospitals.  This "online to offline" space is now being copied widely in China, but Good Doctor can legitimately claim to be a pioneer.  Good Doctor completed its IPO in 2018 valued at more than $5.5bn, and in H1 2020 they reported $404m in revenues. 
Another spin-out is OneConnect (mentioned earlier in the ecosystems section). This is perhaps the most intriguing for western financial institution observers.  OneConnect describes itself as a "technology-as-a-service" solution for financial institutions in China.  OneConnect generated $200m in revenue in H1 2020.  Its largest customer is, of course, Ping-An (representing 50% of its revenue).  Its second-largest customer is LuFax (wealth management business also created by Ping-An).  However, 3rd party financial institutions represent almost 40% of H1 2020 revenues.   Ping-An turned their IT cost center into a profit center.
OneConnect has become a core "engine" used by Ping-An, but it's far from the only one.  Ping-An is also collating and collecting a central view of customer data across all of its ecosystems.  From this comes an ability to wrap finance around a customer in a myriad of ways.
What about the risks?
Ping-An is investing massively in R&D vs. its competitors, creating a drag on its financial performance (ROE).   It has a debt to equity ratio of 1.91. While its ROE is respectable, it is worth keeping in mind that there is usually a limit to how much debt a company can use.  If the Chinese credit markets were to freeze or dramatically shift, Ping-An would be especially exposed.
Ping-An is also operating in the land of the giants.  Ali and Tencent are even bigger, arguably better.  Then there's the opposite threat.  The Chinese start-up ecosystem is incredibly innovative, skilled at copying, then iterating, and born in a massive home market where mobile phone use is the default, and ecosystems are expected by the Chinese consumer.
Other than that, I'm really scratching around for risks.  Especially when you consider, they spin out businesses that aren't yet profitable (but on a path to profit).  There's a lot to admire here.
Conclusion: This is the growth playbook for FS
This post started with a question.  Do you know any company like Ping-An?  To which the answer isn't "yes and here are some examples," it's "maybe have a closer look at Ping-An because it's fascinating."
My goal with writing this is to bring together pieces of the puzzle large incumbent financial institutions are wrestling with.  Facing multi-decade low share prices, a real shift in consumer attitudes, limited earnings growth potential in the next decade, and a real need to make the most of any tech or customer-led investment.  For these organizations, the last decade has been about "digital transformation."  Taking what they did in the analog world and, for the most part doing that in the mobile app.  To them, we can safely say, "job done."
But.
There is so much more value to be created for customers by getting closer to their journey and their context.  Ping-An shows not only can this work, but it can be tremendously effective.  It requires intense focus, skill, and a deep understanding that customers don't want your bank.  They want a better version of themselves.
Financial institutions have spent the last decade trying to fix a UX problem, but now need to shift to fixing a business model problem.  There's a lot to learn from Ping-An.